'Come Home' from Homeschool
~ Impart Values by Modeling ~
by Marilyn Howshall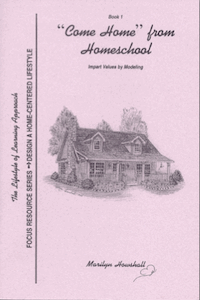 This book will help you to set in place the lifestyle principles necessary that will provide a strong education and unfolding life-purpose for your family.
The first half of the message addresses the importance of the family's lifestyle as a prime contributor to the parents' ability to successfully impart biblical values to their children both by modeling and teaching.
The second part addresses more specifically many lifestyle issues regarding the activities in which we choose to engage outside the home that rob us of the opportunity to develop life-purpose. It challenges the homeschool mom to wisely proceed with her homeschool and lifestyle activity choices with the understanding that there is a tomorrow, and what we sow today will reap its fruit in due time.
A chart is provided to help you evaluate how time is being spent, and in turn come up with a plan to de-junk superfluous activity to prepare your home environment for quality learning.
SUGGESTIONS FOR IMPLEMENTING A LIFESTYLE OF LEARNING— For a parent just beginning to implement Lifestyle of Learning principles at home, Marilyn provides wisdom through a structure of seven seasons for how to begin making needed changes in your family's education. Reading this book is especially helpful in season three.
(52 pages)
*This is an ebook*
After purchase an email will be sent to allow download of the book. Purchased books will not be delivered through the postal service.