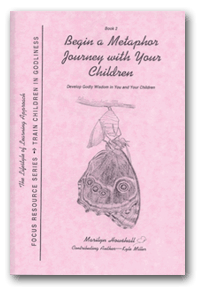 Begin a Metaphor Journey with Your Children
Marilyn Howshall
$5.00

---
**This is an ebook** For information about using and storing your files, go here.
---
Product Description:
Begin a Metaphor Journey with Your Children
This message explains the use of metaphors in the daily spiritual training and instructing needs of your children. It uses real-life testimonies and examples to demonstrate how you can develop your children's spiritual minds and character on a daily basis, simply using their play, work and delight-directed interests as the springboard to communicate spiritual truths to them in "real-time."
You will find yourself seeing with new eyes the rich possibilities already present in your home environment for the spiritual training of your children without ever having to open a book or design a lesson plan! Metaphor training during childhood will provide many wonderful memories for your family when you allow God to design the lesson plans for you!
(60 pages)
*This is an ebook*
After purchase an email will be sent to allow download of the files. Purchased files will not be delivered through the postal service.
---
Reviews:
"If you haven't gotten this ebook, you should! I really like the message of Begin a Metaphor Journey with your children. Even though God has given me metaphors before, it never occured to me to deliberately teach my children this way using the stuff of real life! I think my 8-year-old son will respond well to this!" ~ Amy G.
---
Purchasing Recommendations:
Frequently bought together

You May Also Be Interested In

$95.00

$23.00

$5.00