Boys and Reading & Writing
~ Liberate Your Child's Uniqueness ~
by Marilyn Howshall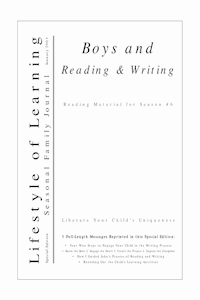 3 Full-Length Messages Reprinted in this Special Edition:
Four Wise Steps to Engage Your Child in the Writing Process
1. Know the Bent
2. Engage the Heart
3. Create the Project
4. Impose the Discipline
How I Guided John's Process of Reading and Writing
Rounding Out the Child's Learning Activities
This Special Edition of the Lifestyle of Learning journal is made up of a collection of messages that were originally published in different issues of the journal that went out to subscribers over a period of several years. They address one main topic and are reprinted here for those who have read Wisdom's Way of Learning and its subsequent messages.
SUGGESTIONS FOR IMPLEMENTING A LIFESTYLE OF LEARNING—For a parent just beginning to implement Lifestyle of Learning principles at home, Marilyn provides wisdom through a structure of seven seasons for how to begin making needed changes in your family's education. Reading this Special Edition is especially helpful in season seven.
(23 pages)
*This is an ebook*
After purchase an email will be sent to allow download of the book. Purchased books will not be delivered through the postal service.