The Secret to Successful Homeschooling
By Michelle Gephart
9/22/2011 Bothell, Washington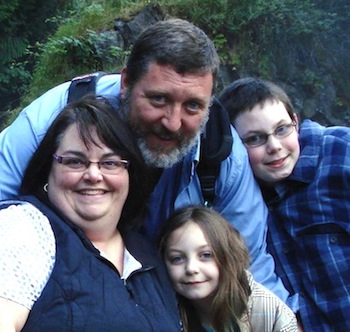 My husband and I discussed the possibility of homeschooling when my son was born, but we veered away from that idea when he was diagnosed with special needs and entered the public school system at 3 ½ years old. I loved having him at school because it gave me lots of time to pursue my own interests, but later I came to realize how selfish I was in this regard. As time went on, I started to have serious concerns about our education choices. We felt deeply convicted to begin homeschooling when our son (10) was in 4th grade and daughter (7) in 1st grade in public school.
I identified myself with a combination of homeschool methods that I learned about online. I viewed education as being a scope and sequence of different subjects to be studied over 12 years in a linear fashion according to age. I thought the only difference would be as homeschoolers we could work at our own pace and provide a Christian based curriculum. I was somewhat confident about beginning to homeschool because I had done so much planning and had friends who were successful homeschoolers.
Once we began school at home, I found myself spending hours searching online every night for the "secret to successful homeschooling". I also purchased more and more curriculum thinking that I just didn't have the right material to make my kids learn. This is how I stumbled upon Lifestyle of Learning™ and read Barbie's testimony about her family's radical transformation (Barbie's Testimony can be found in the Marilyn Howshall's ebook Empowering the Transfer of Moral Values and Faith). I was so surprised to learn that she lived about 30 minutes from me! I attended a seminar for parents at Barbie's home that exposed me for the first time to truths about parenting that I had never known before. I spent those two hours with tears running down my cheeks and I went home with a handful of notes about how God wanted to parent ME.
During the first few months before I met Barbie and Marilyn, I experienced intense feelings of guilt and insecurity about our homeschool. We experienced a lot of complaining and strife as we tried to find our way. In fact, as we proceeded through our first few months of homeschooling, my son became more and more outwardly rebellious in his unloving attitudes toward me and his sister. Almost daily we experienced more and more yelling, tantrums and resistance. He would scream at me and run to his room, flinging his bed sheets, pillows and mattress on the floor. This is something he did previously during a stressful time in public school. I really didn't know what to do as it became apparent that I didn't have his heart in any form. He often said he wasn't sure if God existed and stubbornly resisted every simple request. We noticed his growing disdain for us so we bought a book on angry kids hoping to find an answer to our problems but it didn't help us. I talked to several friends but they didn't know how to help me. Like Marilyn Howshall wrote in her book, Empowering the Transfer of Moral Values and Faith, my bad fruit was telling on me.
Barbie and Marilyn took on my concerns. I learned that he wasn't increasing in rebellion, but the rebellion that was already there inside was coming to the surface as we tried to put on this new homeschool lifestyle. Then the Lord convicted me that I was completely engulfed in my own endeavors and that I viewed my children as an interruption to my own life. I even failed to meet their true heart-felt needs to be loved, understood and known. All the years my children were in school, I wasn't even helping them, or relating with them as I should in numerous ways because my priority was to be on the computer all the time or filling orders or answering emails.
As I was convicted about my selfishness, I decided to close my home businesses. As my self-centered habits and thoughts were further exposed, I was deeply and profoundly convicted and grieved over the hurt I caused my whole family and the lack of love my family experienced coming from me. I immediately began to repent to the Lord and then to my kids and husband. I began to obey the Lord as I came to understand the Holy Spirit communicated with me primarily through my conscience. This revolutionized my life! I didn't realize it at the time, but looking back, I see how I was beginning my own radical transformational process.
The days and months of repenting and winning the heart of my son were nothing short of agonizing. A death was in order…the death of my own flesh [self-ways]. Looking back on this time, I see how some good fruit in my children ripened right before my eyes! God is so merciful and kind. All the destruction I brought to my family through my years and years of selfishness was actually being reconciled so quickly. My son soon became a different person, not to mention I also became a new person as I learned to love. He no longer squinted his eyes in hatred at me, folded his arms and turned his back on me, he no longer threw tantrums like he used to and he didn't resist me to the extent he did before. Now he is often willing to obey simple requests without resistance and will sometimes initiate helping me. He smiles and laughs so much more and wants to tell me everything about what he is interested in. He is willing to do household tasks when asked and he is relating with others in a loving way by not demanding his own way but considering their desires. Because I never lost my daughter's heart like I did his, she remains soft and lovingly responsive to me.
As of this writing it has been nearly a year since discovering Lifestyle of Learning™. As I look back, I can see how my whole family has changed in significant ways. The impact of Lifestyle of Learning™ on my personal growth with the Lord is immeasurable. One way we have been impacted is through my self-education in the area of planning and preparing meals for my family. I always considered myself to be a failure in the kitchen and used this as an excuse to stay stuck for over 20 years. I had no idea I had ignored this area of my life and the fatigue it produced in me every day. It took about six months of continuous effort to form new habits and create methods for meal planning and preparation. I no longer have any stress or anxiety about what to feed my family...the peace of mind I experience every single day is profound. I feed my children breakfast and lunch every day at home and we eat together. For months, we've eaten dinner together as a family every night which we never did in the past. I blogged my experience and now have a record of the real change that occurred around this area and the tremendous blessing we are experiencing as a family because of it. Even though I tried many times over the years to accomplish this goal I was never able to make the needed changes until now.
Another area of impact of course is my relationship with my son. I feel free to shower him with affection and approval where before I only related to him with disappointment, shame and judgment. He allows me to hug and kiss him and doesn't push me away. He wants to tell me about his interests (a lot!) and enjoys being around me and the feeling is mutual. Our whole family relates differently as we are thinking of each other's needs and preferences instead of just our own selfish attitudes, intentions and motivations. I can see each member of my family learning to love each other sacrificially as we put down our own selfish ways. I can see how blind I was in the past as my focus was on religious activity and not love.
Another area in which I've been transformed is my relationship with the Lord. Before meeting Marilyn and Barbie, I was truly lost in my religion. I was just like the Pharisees whom Jesus accused of looking pious on the outside while being wicked on the inside. Inside myself, I was tormented by all sorts of guilt, self-condemnation, insecurity and fear. On the outside I was judgmental, condescending and superior to everyone and everything. I never experienced the overcoming life Jesus talked about until recently as I've been able to change in ways I never could before. I have unexplainable peace and joy that is such a contrast to my inner being even from several months ago. The Lord has set me free in many areas including self focus, shame, insecurity, fear, worry, guilt and irritation with others. I give Him all the glory for the very good works He has done and the river of grace and mercy He has poured over me. I'm eternally grateful that the Lord led me to meet Marilyn and Barbie and the Lifestyle of Learning™ message. My life has been forever changed because of their sacrificial investment in me.
I found the "secret to successful homeschooling". It had to begin with my own growth and change.