Becoming Holy Spirit-led in Our Education
More Testimonies
~ by Nancy Blanchard
August 2011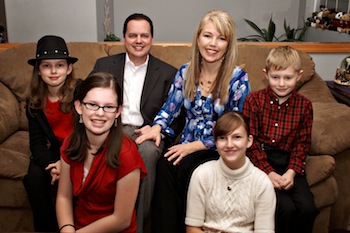 My husband and I made the decision to homeschool our children before we started our family. As my oldest daughter became school aged, I started with workbooks and then moved into full blown curriculum sets. I was duplicating an education that was similar to my own public schooled education because that's what I knew. The curriculum sets lasted three months until we both became bored with them. From that point forward I combined different curriculum and unit studies, eventually coming to depend upon co-ops for areas I felt I was failing my children in. When I discovered Lifestyle of Learning™ I was very worn out and often found myself wondering how I would survive the many years left of homeschooling my children.
Sometime around 2005, a friend shared Lifestyle of Learning™ with me. We were both drawn to Lifestyle of Learning™ because it was somewhat similar to unschooling. Like unschooling there is a focus on following the interest of the children, however it was different in that it was encouraging a Holy Spirit-led education. Through reading Lifestyle of Learning™ books 'Come Home' From Homeschool and Secrets of Solitude, the heavy burden I felt was lifted from my shoulders that gave me a tremendous feeling of freedom. What I was reading about was exactly what my husband and I had originally envisioned, gearing our education around our children's natural bents and interests.
As I began to learn more about Lifestyle of Learning™ I immediately desired to stop everything I was doing, however I had commitments to teach in a few parent led co-op classes. I taught weekly for one co-op class and rotated for the rest. I could see that preparing for these classes took valuable time away from my family and from pursuing our real education. Once we finished our co-ops, I wasn't all that sure "what to do" so I created lists of possible productive free time activities and I began to observe my children's interests. We had lots of tea parties, started flower pressing, and my oldest daughter began to play with cake decorating, and so forth. I wasn't sure what I was doing, but I muddled my way through like this for awhile. 
From reading Come Home From Homeschool, I began to see how so many families are fragmented in so many areas of our culture, in the homeschool community, and at church. We decided to opt out of youth group but left the younger kids in the children's program because they "enjoyed it." Though I began to be convicted that we needed to focus on developing our family life around our home, I struggled with this idea for several more years feeling strong convictions in some areas and leniency in others. I was waffling between legalism and license, feeling confusion and guilt and not deciphering direction from the Holy Spirit. I wasn't able to see my own heart issues and I didn't understand what it meant to have my children's hearts. I lacked in my understanding of who God is and how to connect with Him. I was not accustomed to listening to the Holy Spirit. I didn't really understand that He speaks through our conscience and I wasn't able to differentiate the Holy Spirit from my flesh and the enemy. I was often confused, not knowing what direction the Lord wanted me to go or how to deal with various things. I now realize I didn't have a real relationship with Him, though I had been going to church and had raised my children in church.  
Over the years through my various struggles, I never fully let go of certain Lifestyle of Learning™ concepts. I began to mix bits and pieces of Lifestyle of Learning™ ideas with ideas based on the public school system and entered back into co-ops. As my oldest daughter neared high school age, I began to be concerned about how to "do" high school. I put a checklist of things in front of her with high school transcripts as the goal. I left her freedom to write up as credits what she had been doing in her interests, but in the subject areas that her interests didn't cover, I looked for curriculum and co-op classes, all so she could check off the boxes. 
When Marilyn and Barbie started up Influential Parenting seminars in our area, I went to a few "Mom's Day Out" events and began to meet with Barbie. My attention became focused on the relational parenting and discipleship side of the Lifestyle of Learning™ message. I could see I was losing the hearts of my two oldest daughters. I began to recognize that I was the one that NEEDED the "heart level" growth for me to begin a real Lifestyle of Learning™. In January 2011, the "Seven Seasons to LYFE" pilot program for Lifestyle of Learning™ started and I was so grateful to be able to attend. It was through listening to the messages, doing the assignments, and reading the books that I began to see what a real education looks like and that our family really could develop a lifestyle of learning. In February we began to pair down our outside activities, cut our co-op classes down to a minimum while finishing out the rest of the school year.
My connection with the Lord prior to my real start with Lifestyle of Learning™ consisted of going to church and doing occasional Bible studies, making inconsistent efforts at journaling and reading the Bible. I often felt I was missing something and would frequently feel like I needed to go forward at the weekly altar calls at church. I often questioned my true salvation. I also found myself wondering what the various pastors really meant when they talked about "relationship" with Jesus. I would sometimes feel my heart moved during worship or during my Bible reading time or prayer, but it wasn't something that I really understood or connected into. I occasionally felt the presence of the Lord, but mostly I felt like I was pretending.
I used to go to bed so often feeling immense guilt over my attitudes toward my children and told myself I would do better the next day, but it usually lasted but a short while. I had no idea of what repentance and reconciliation was… I now know the Holy Spirit was nudging me in various things, and giving me the desire to change certain things. I just didn't grasp the simple idea of repentance being followed by obedience, so I remained in my struggles. It seems silly to me now, but it was like I actually thought God would just change me. I thought He would do all the work and then I would just be different. That sounds so ridiculous to me now. I was ignoring much of the Holy Spirit's correction and instruction. I didn't know His voice and wasn't aware of my need to repent and obey immediately.
I am so thankful that I no longer go to bed experiencing guilt. I have been learning what real repentance is and following it up with obedience. I have been giving up wrong attitudes, immediately repenting, apologizing and bringing my relationships into reconciliation. I am so thankful to be gaining the hearts of all of my children. I feel like I am finally, for real, connecting into the Lord and actually knowing Him. I no longer wonder what a real relationship with Jesus feels like and I feel a security in knowing that I belong to the Lord… that I am His. I'm so blessed to be embracing the Gospel message of Lifestyle of Learning™ and I now know that He will be faithful to lead us into a true Spirit-led education.
Blessed Assurance…
More Testimonies