Two-Pronged Education Myth
~ A common belief system that prevents growth and change ~
by Marilyn Howshall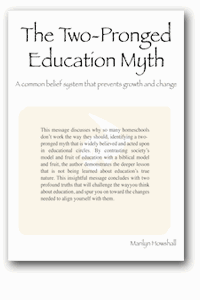 This message discusses why so many homeschools don't work the way they should, identifying a two-pronged myth that is widely believed and acted upon in educational circles. By contrasting society's model and fruit of education with a biblical model and fruit, the author demonstrates the deeper lesson that is not being learned about education's true nature. This insightful message concludes with two profound truths that will challenge the way you think about education, and spur you on toward the changes needed to align yourself with them.
SUGGESTIONS FOR IMPLEMENTING A LIFESTYLE OF LEARNING—For a parent just beginning to implement Lifestyle of Learning principles at home, Marilyn provides wisdom through a structure of seven seasons for how to begin making needed changes in your family's education. Reading this Special Edition is especially helpful in season one.
(14 pages)
*This is an ebook*
After purchase an email will be sent to allow download of the book. Purchased books will not be delivered through the postal service.